Anton von Webern (1883-1945)
(born Vienna, 3 December 1883; died Mittersill, 15 September 1945).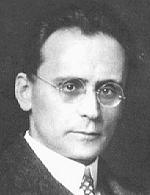 He studied at Vienna University under Adler (1902-6), taking the doctorate for work on Heinrich Isaac; in composition he was one of Schönberg's first pupils (1904-8), along with Berg. Like Berg, he developed rapidly under Schönberg's guidance, achieving a fusion of Brahms, Reger and tonal Schönberg in his orchestral Passacaglia, already highly characteristic in its modest dynamic level and its brevity. But he was closer than Berg in following Schönberg into atonality, even choosing verses by the same poet, Stefan George, to take the step in songs of 1908-9. His other step was into a conducting career, which he began with modest provincial engagements before World War I. After the war he settled close to Schönberg in Mödling and took charge of the Vienna Workers' Symphony Concerts (1922-34). Meanwhile he had continued his atonal style, mostly in songs: the relatively few instrumental pieces of 1909-14 had grown ever shorter, ostensibly because of the lack of any means of formal extension in a language without key or theme. However, the songs of 1910-25 show a reintroduction of traditional formal patterns even before the arrival of serialism (especially canonic patterns, no doubt stimulated, as was the instrumentation of many of these songs, by Pierrot lunaire), to the extent that the eventual adoption of the 12-note method in the Three Traditional Rhymes (1925) seems almost incidental, making little change to a musical style that was already systematized by strict counterpoint.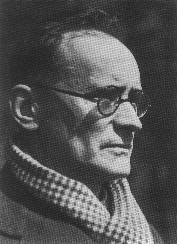 However, Webern soon recognized that the 12-note principle sanctioned a severity and virtuosity of polyphony that he could compare with that of the Renaissance masters he had studied. Unlike Schönberg, he never again sought to compose in any other way. Rather, the highly controlled, pure style of his Symphony appears to have represented an ideal which later works could only repeat, showing different facets. His use of the series as a source of similar motifs, especially in instrumental works, merely emphasizes the almost geometrical perfection of this music, for which he found literary stimulus in Goethe and, more nearly, in the poetry of his friend and neighbour Hildegard Jone, whose words he set exclusively during his last dozen years. With Schönberg gone, Berg dead and himself deprived of his posts, Webern saw Jone as one of his few allies during World War II. He was shot in error by a soldier after the end of hostilities, leaving a total acknowledged output of about three hours' duration.
(see also article: The Second Viennese School)