Aaron Jay Kernis (1960 - )

Every composition by Aaron Jay Kernis bears the stamp of his emotional directness, multilayered response to poetic imagery, and love of fresh, bright vocal and instrumental textures. "Kernis's invention is exuberant," wrote Andrew Porter in The New Yorker, capturing in four words the quality that has propelled this young composer's music to a prominent place on orchestral, chamber, and recital programs throughout the United States and internationally. Using a diversity of styles, ideas, and impressions to create music of expressive lyricism and engaging wit is one of Kernis's trademarks.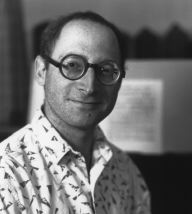 Kernis is the most recent winner of the Pulitzer Prize in Music and one of the youngest recipients of this award. The composition cited by the Pulitzer board -- String Quartet No. 2, "musica instrumentalis" -- is the second work in this genre commissioned and premiered by the Lark Quartet. Kernis has written works for a variety of other forces, including New Era Dance, commissioned for the 150th Anniversary of the New York Philharmonic and premiered by the Baltimore Symphony; the piano quartet Still Movement with Hymn, commissioned by American Public Radio for Christopher O'Riley, Pamela Frank, Paul Neubauer, and Carter Brey; Colored Field, an English horn concerto for Julie Giacobassi and the San Francisco Symphony; Goblin Market for narrator and ensemble, on a text by Christina Rossetti, for the Birmingham (England) New Music Group; Air for violinist Joshua Bell; an a cappella work for the Birmingham Bach Choir; Lament and Prayer, a work for violin and chamber orchestra for Pamela Frank and the Minnesota Orchestra; and Double Concerto for Violin, Guitar, and Orchestra, commissioned by the Saint Paul Chamber Orchestra, Aspen Music Festival, and Los Angeles Chamber Orchestra for Nadja Salerno-Sonnenberg and Sharon Isbin.
Aaron Jay Kernis was born in Philadelphia on 15 January 1960. He began his musical studies on the violin; at age 12 he began teaching himself piano, and, in the following year, composition. He continued his studies at the San Francisco Conservatory of Music, the Manhattan School of Music, and the Yale School of Music, working with composers as diverse as John Adams, Charles Wuorinen, and Jacob Druckman. Kernis received national acclaim for his first orchestral work, Dream of the Morning Sky, premiered by the New York Philharmonic at the 1983 Horizons Festival.
Kernis is one of the most honored young American composers. In addition to the 1998 Pulitzer, his awards have included the Stoeger Prize from the Chamber Music Society of Lincoln Center, a Guggenheim Fellowship, a Rome Prize, an NEA grant, a Bearns Prize, a New York Foundation for the Arts Award, and three BMI Student Composer Awards. In September 1993 he was appointed Composer-in-Residence with the St. Paul Chamber Orchestra, Minnesota Public Radio, and the Minnesota Composers Forum. Recordings of vocal and chamber works by Kernis are available from Composer Recordings, Inc., Nonesuch, and the New Albion label. Argo, with whom Kernis now has an exclusive recording contract, has released Symphony in Waves, with Gerard Schwarz and the New York Chamber Symphony, the String Quartet, performed by the Lark Quartet, New Era Dance, performed by the Baltimore Symphony, and Colored Field and Still Movement with Hymn with the premiering performers. A CD of Kernis's Symphony No. 2, Invisible Mosaic III, and musica celestis, with Hugh Wolff conducting the City of Birmingham Symphony Orchestra, recently won France's Diapason d'or Palmares Award for Best Contemporary Music Disc of the Year. Kernis's music is published exclusively by Associated Music Publishers.