Cèsar Franck (1822-1890)
(born Liège, 10 December 1822; died Paris, 8 November 1890). French composer, teacher and organist of Belgian birth.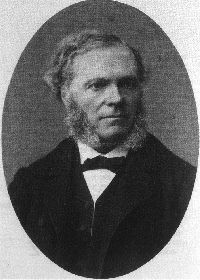 Intended by his ambitious father for a career as a piano virtuoso, he studied at the Liège (1830-35) and Paris (1837-42) conservatories but found his true vocation only later through organist's appointments in Paris, chiefly that of Ste. Clotilde (from 1858), and part-time teaching. His improvisatory skill attracted notice and led to his first major work, the remarkable Six pièces (1862), though another decade passed before he was appointed organ professor at the Conservatoire. From the mid-1870s until his death his creative powers lasted unabated. He wrote large-scale sacred works, notably the oratorio Les béatitudes (1879), and several symphonic poems such as Le chausseur maudit (1882) and Psyché (1888). But his achievements are evident especially in the symphonic, chamber and keyboard works in which he made one of the most distinguished contributions to the field by any French musician. Here, in the Piano Quintet (1879), the Prélude, choral et fugue for piano (1884), the Violin Sonata (1886), the Symphony in d Minor (1888) and the String Quartet (1889), his inherent emotionalism and a preoccupation with counterpoint and traditional forms found a balance, in turn decisively impressing his band of disciples, from Duparc, d'Indy and Chausson to Lekeu, Vierne, Dukas and Guilmant. Features of his mature style, indebted alike to Beethoven, Liszt and Wagner, are his complex, mosaic-like phrase structures, variants of one or two motifs; his rich chromaticism, often put to structural use in the 'chord pair'; and his fondness for cyclic, tripartite forms.