Gabriel Fauré (1845-1924)
(born Pamiers, 12 May 1845; died Paris, 4 November 1924).

He trained at the Ecole Niedermeyer (1854-65) as organist and choirmaster, coming under the influence of Saint-Saëns and his circle while working as a church musician (at Rennes, 1866-70; St. Sulpice, 1871-3; the Madeleine, from 1874) and giving lessons. Though he met Liszt and was fascinated by Wagner, he sought a distinctive style in his piano pieces and numerous songs, which had to be composed during summer holidays. Recognition came slowly owing to the modernity of his music. In 1892 he became national inspector of of the provincial conservatories, and in 1896 chief organist at the Madeleine and composition professor at the Conservatoire, where his pupils included Ravel, Koechlin, Roger-Ducasse, Enescu and Nadia Boulanger; from 1905 to 1920 he was the Conservatoire's resolute and influential director, becoming celebrated for the vocal and chamber masterpieces he produced until his death.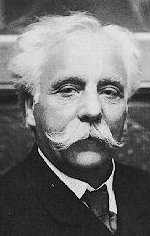 Fauré's stylistic development can be traced from the sprightly or melancholy song settings of his youth to the bold, forceful late instrumental works, traits including a delicate combination of extended tonality and modality, rapid modulations to remote keys and continuously unfolding melody. Widely regarded as the greatest master of French song, he produced six important cycles (notably the novel op. 61) and three collections each of twenty pieces (1879, 1897, 1908). In chamber music he enriched all the genres he attempted, while his works for piano (chiefly nocturnes, barcarolles and impromptus) embody the full scope of his stylistic evolution. Among his few large-scale works, the popular and delicately written Requiem op. 48 and the "song opera" Pénélope (1913) are noteworthy.
(Hear an excerpt from Pelléas et Mélisande)